How to set up a Bridal Shower Coffee Bar
This post was created in partnership with Keurig® Green Mountain®. All opinions, ideas and images are my own.
Whether the bride-to-be loves coffee and wants a coffee-themed bridal shower or you want to incorporate a perfectly-styled coffee bar into your event, check out how to set up a bridal shower coffee bar with these tips and tricks.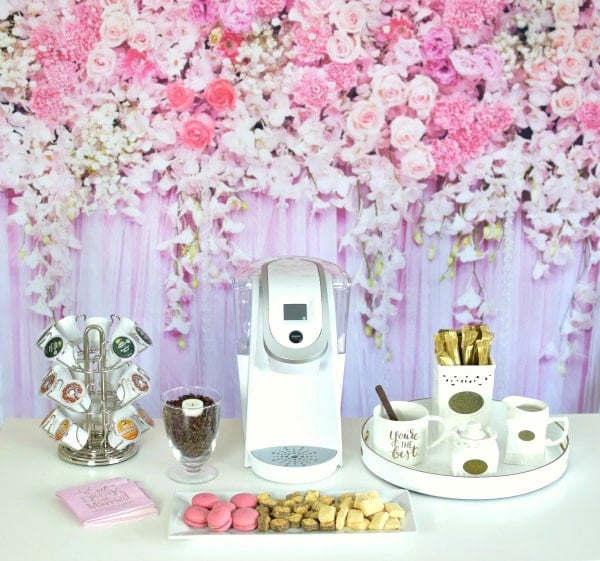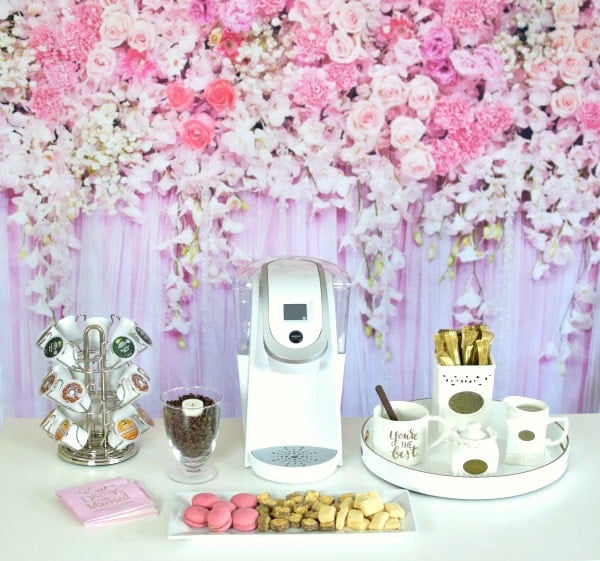 There's one thing that's a staple at many parties and events, and that's coffee. Who doesn't love a delicious cup of coffee after dinner with dessert? I'm sure you've seen the popularity of at-home coffee stations, and personally, I love the idea! I love the idea even more for a bridal shower. Whether you're hosting a bridal shower at home or at a venue, you can incorporate a themed coffee bar, complete with a variety of delicious desserts. Guests will absolutely love it. No need for a barista at your coffee bar! Make the coffee bar a self-serve station with the Keurig® K250 Coffee Maker. Guests can whip up their favorite coffee beverages with a touch of a button. You will love the ease and convenience of the K250 coffee maker at your bridal shower.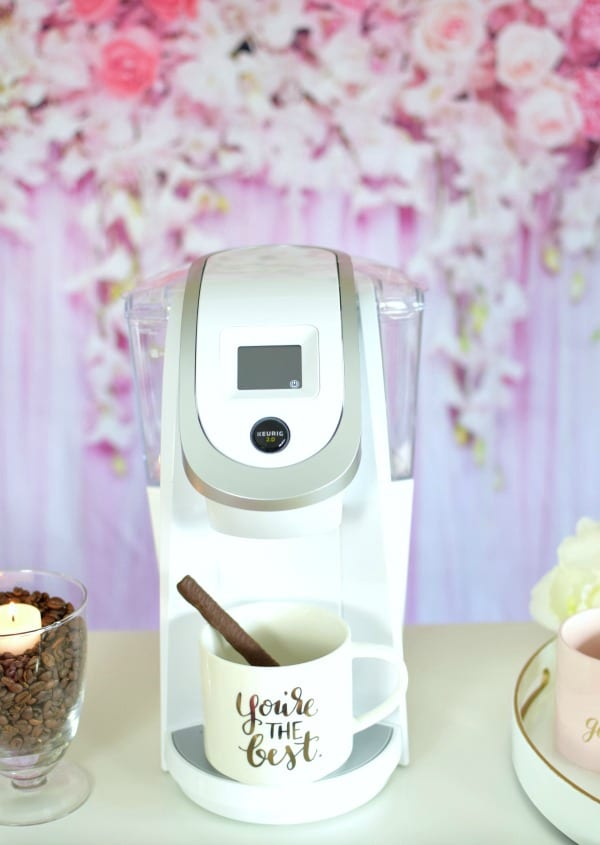 The K250 coffee maker also comes in a variety of colors to fit any bridal shower theme!
Even if you don't want to do a coffee-themed bar, you can incorporate a little coffee-themed DIY, like this coffee bean candle idea. It's so easy to incorporate into any theme. Just get a glass jar, some coffee beans, and a tea light candle.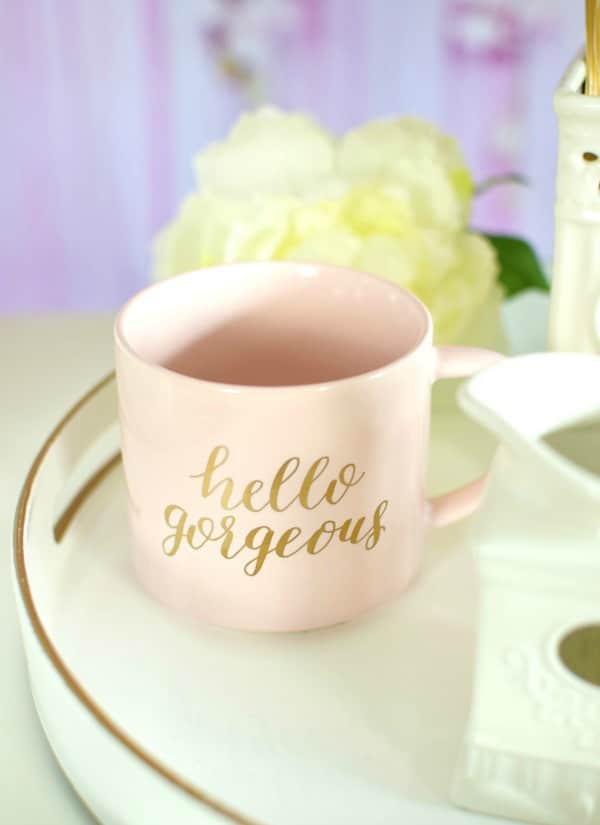 Another great idea for your bridal shower it to make or buy personalized coffee mugs for guests who can take them home as favors. You can add the bride and groom's names and wedding date or a catchy coffee-related saying such as "Love is brewing" or "The Perfect Blend." I just loved the coffee mugs used above with sayings like "Hello gorgeous!"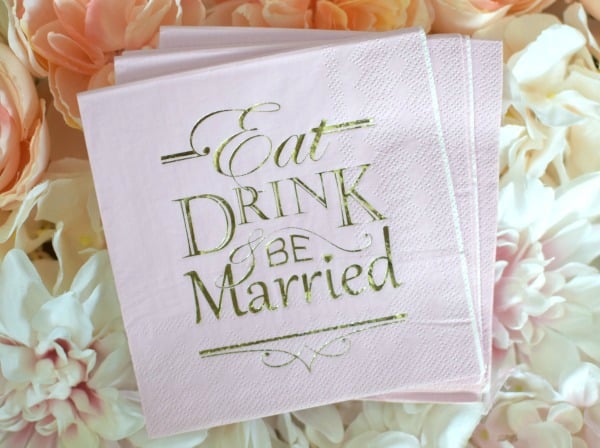 What's fun about incorporating a coffee bar into your bridal shower is decorating it, right?! Design a stunning theme for your coffee and dessert bar based on the bridal shower theme or wedding colors. First, find a central place for your coffee bar that's not in a high traffic area. You don't want your guests spilling coffee on each other during the bridal shower. Next, offer a variety of coffee, creamers, sugars, and desserts. Not everyone at your shower will like the same coffee or creamer. If you don't know which varieties to choose, think of what's most popular and go from there. Include a light roast, dark roast, and decaf for a variety. I included Green Mountain Coffee® Breakfast Blend, The Original Donut Shop® Coffee and Green Mountain Coffee® Summer Sunrise K-Cup® pods, which are all delicious and the perfect starting point for your coffee offerings. For the creamers, you can't go wrong with vanilla or mocha. And don't forget about those guests who love iced coffee. Have some ice on hand for those who like to make after-dinner iced beverages. For the perfect cup of iced coffee, guests can brew their Keurig® hot beverage into a large plastic cup filled with ice.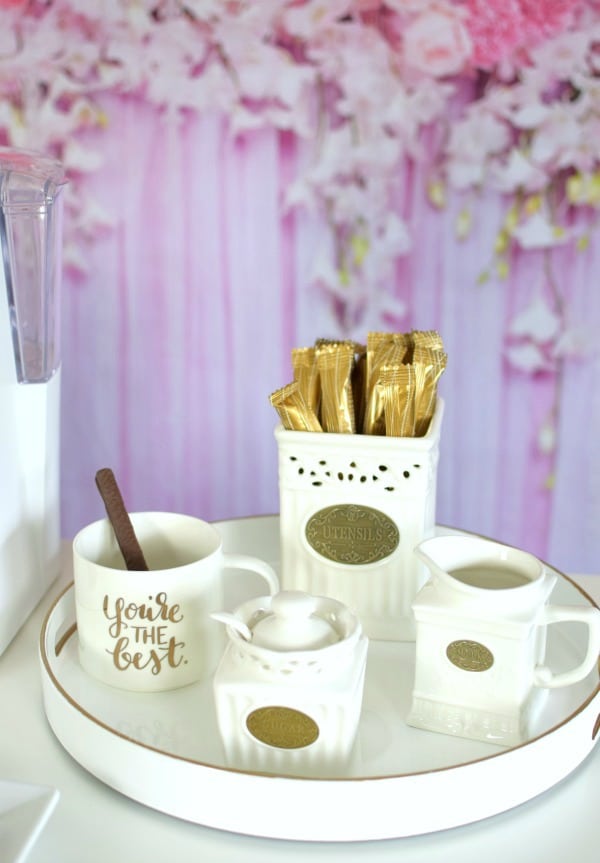 Here's what you'll need to set up the perfect coffee bar for your bridal shower: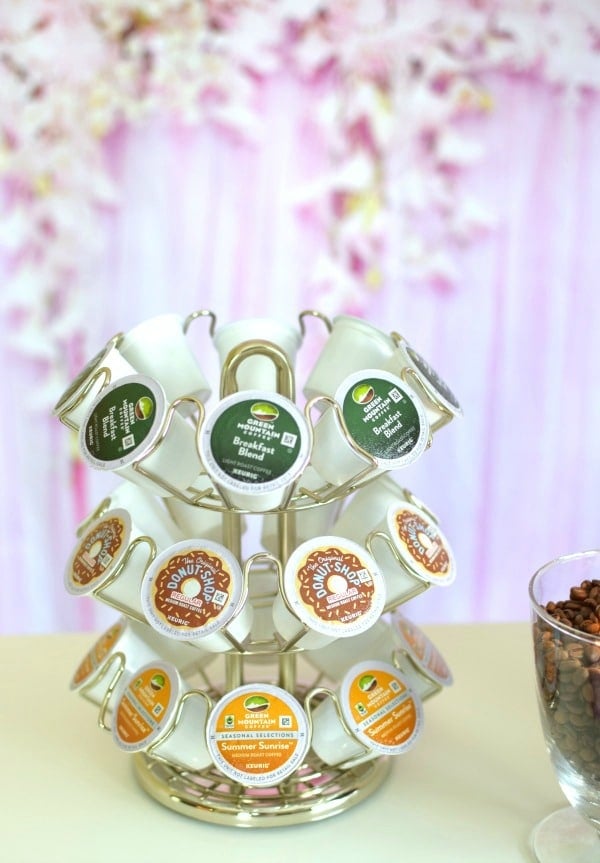 The Keurig® K250 Coffee Maker is available on Keurig.com and at major retailers nationwide. You can also choose from hundreds of varieties of K-Cup® pods on Keurig.com to offer your guests.
What theme will you choose for your bridal shower coffee bar? Let us know in the comments below! Looking for more party ideas? Don't forget to follow us on Instagram @prettymyparty and Pinterest and join us in our private Facebook group.
SaveSave
SaveSave