6 Awesome Dessert Table Backdrop Ideas
There are many ways to bring a dessert table to life. The backdrop is an important element of the dessert table because it really sets the tone for your theme. The dessert table is my favorite part of any event. It is usually the main element of my parties and what all of my guests flock to the moment they arrive. Check out these 6 Awesome Dessert Table Backdrop Ideas!
One of my favorite backdrops is the fabric garland. My favorite vendor for this is ohMY CHARLIE. They create the best custom garlands and backdrops for an occasion. Fabric garlands and backdrops are perfect for parties, weddings, bridal showers, baby showers, photo shoots, or home decor.
Another one of my backdrop favorites trending right now is the personalized canvas backdrops. Party Square has a ton of options for events and can custom design a backdrop that will match your party theme!
This next backdrop idea is great because it's affordable and easy to do yourself. The paper plate backdrop, like this one from Deliciously Darling Events, really makes the sweets table pop with silver circular plates put together as the backdrop for a fun retro pink and mint ice cream parlor party! It adds dimension and immediately draws your eye to the table.
Did you know that balloons can make an awesome dessert table backdrop? Check out this idea from Top It Off Designs. They placed different shades of seafoam green balloons behind the dessert table in different heights and levels to give the backdrop an awesome ombre effect.
This DIY paper flower backdrop is another one of my favorites! Tania Fischer Design styled a gorgeous yellow themed first communion party with this unique DIY backdrop idea. It's just simple gorgeous and you can add a variety of colors to your backdrop to really make it pop!
Lastly, the paper rosette backdrop is another great DIY project for any occasion. They are fun and easy to make, inexpensive, and looks awesome behind any sweets table. They are also great for a fun photo booth! Check out this gorgeous one from Design Dazzle, which also includes a tutorial!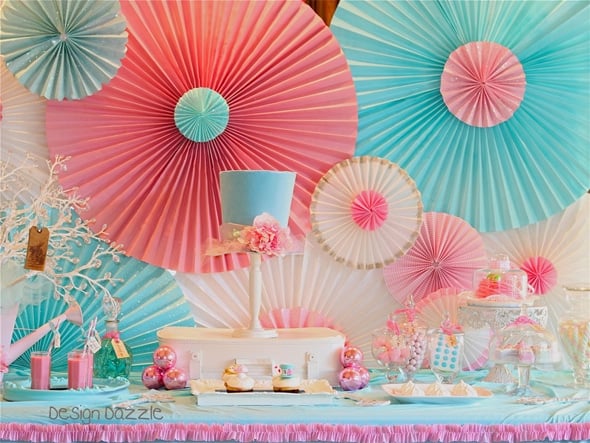 When it comes to backdrops, the possibilities are pretty much endless! What's your favorite dessert table backdrop? Let us know in the comments below!
Check out our favorite party planning must-haves for any event:

Sign up for a 30 day free trial of Amazon Prime and get 2 day FREE shipping on your party products!