10 Kid Friendly New Years Eve Party Ideas
New Year's Eve is right around the corner. I know, right?! Can you even believe it? It seems like we were just ringing in 2014 and now 2015 is here and ready to knock down the door!
I don't know about you, but when my hubby and I were younger, going out and celebrating until the wee hours of the morning with lots of friends at our local watering holes was definitely a fun time.
But now that we have kids we would much rather stay in with the family, have some friends over, and let everyone enjoy the night together in a more casual and laid back atmosphere.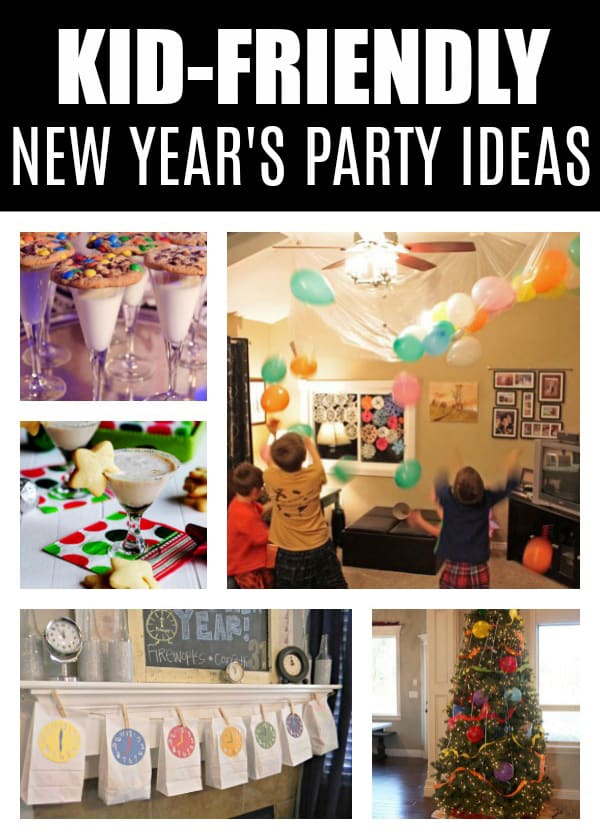 With that being said, here are 10 Kid Friendly New Years Eve Party Ideas that can get the ball rolling for your big party! I love getting the kids involved whenever I can. It gets them so excited to see that there is something in the works that they get to anticipate!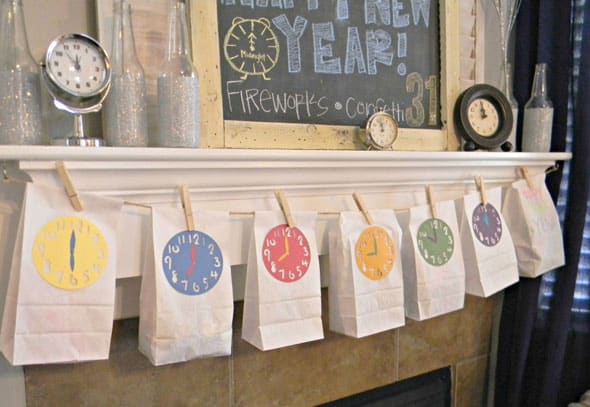 1. These New Years Eve Countdown Bags, which were found over at Organize Your Stuff Now, are perfect ways to keep the kids entertained all night long! I love this idea because it's so interchangeable with however your party is planned. This particular event had the bags starting a countdown at 6 p.m. and every hour on the hour, the kids got to open them up and see what was inside. Include anything you like, from a special treat at the bewitching hour, some glow sticks to keep everyone excited, or even some sparklers that the kids can take out on the deck for some quick winter fun! The sky is the limit!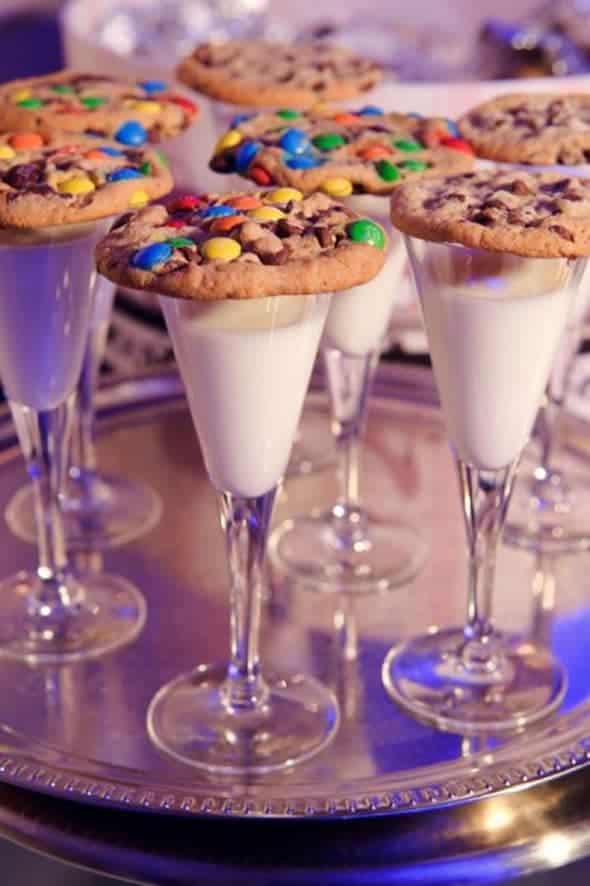 2. What a great way to celebrate the stroke of midnight – a Cookies and Milk Toast! Style Me Pretty can be credited for this fancy kids' toast, but I'm pretty sure the kids are going to LOVE it! Grab some plastic champagne flutes, get everyone their favorite cookies, and when midnight strikes, the kids can toast, as well! My kids will probably be long gone in night-night land, but for those who can hang tough, they're going to be greatly rewarded!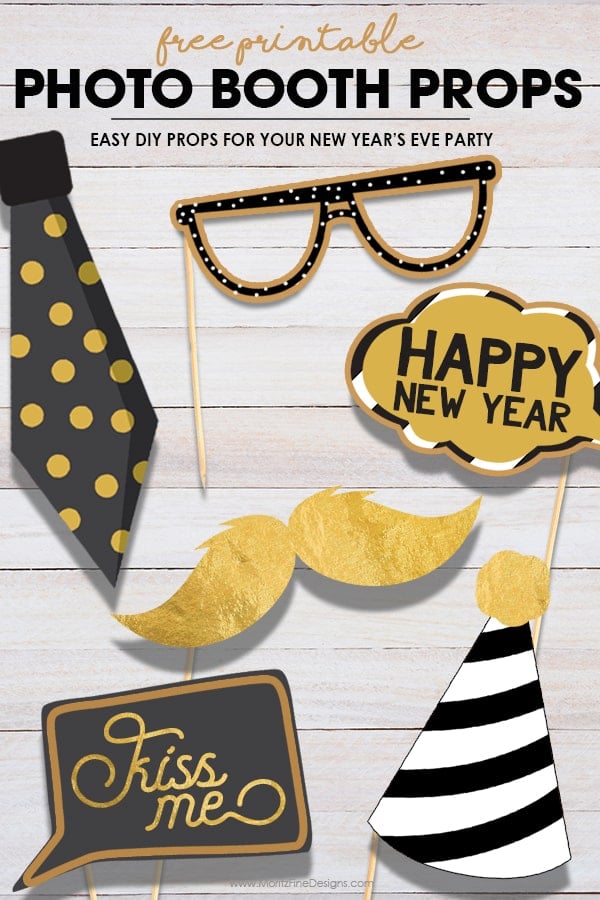 3. Everyone loves a fun photo booth that is set up at a party! Check out these FREE New Years Eve Photo Props that they also have on hand for your night of fun. Perfect!
4. So this is one I'm not sure who will love more … the kids or the adults! Fondue Fun for Everyone! Crazy Little Projects has a great Chocolate and Peanut Butter Fondue Recipe for your disposal, but the great thing about fondue is that it's pretty much an easy way to entertain AND eat! Have lots of goodies out to dunk in the chocolate and if you want to get really crazy, you can even have some cheese fondue on hand! I'm telling you … it will be a hit!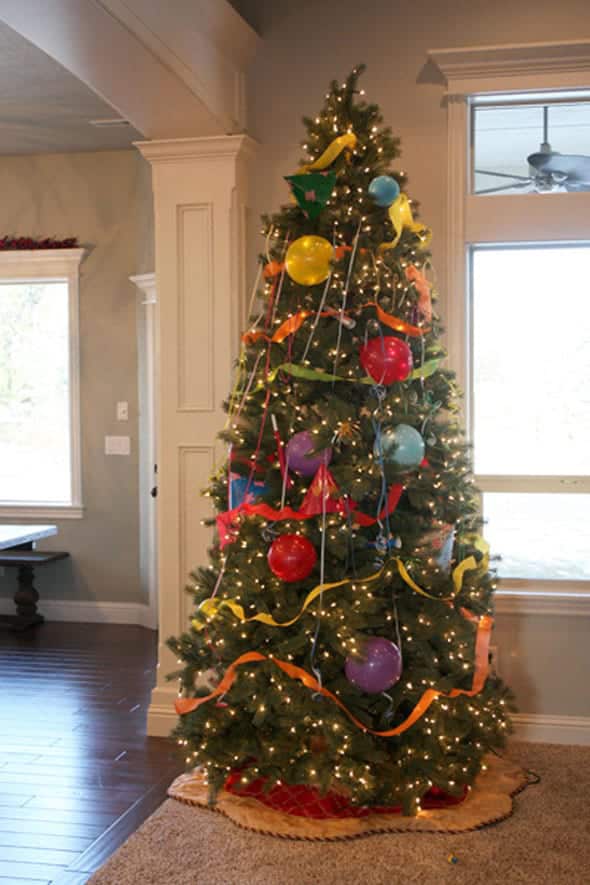 5. This New Years Tree, found over at Our Best Bites, is such a great idea and one I REALLY want to try! Once you take off all of your Christmas decorations, decorate it with streamers, balloons, and other fun things that will be perfect for New Year's Eve! This idea even included filling up the balloons with goodies that the kids can pop at midnight for some wild and noisy fun! Fill up the balloons with any kind of treats you like (candy, change, dollar bills, etc.) and everyone is definitely going to wait for that ball to drop so they can bust open some balloons!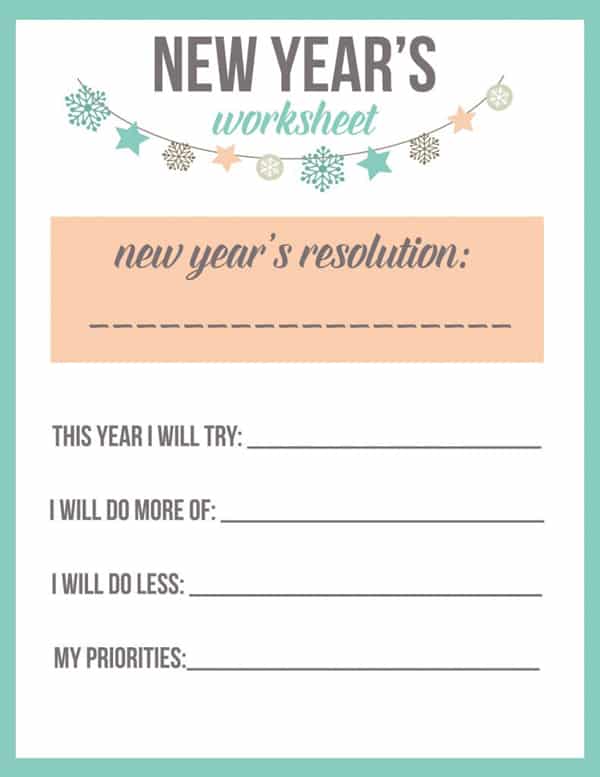 6. New Year's Resolutions Printables are a fun way for everyone to look back at the highlights of the year, along with things they are looking forward to in the year to come. What a great activity to keep the kiddos occupied for a little bit!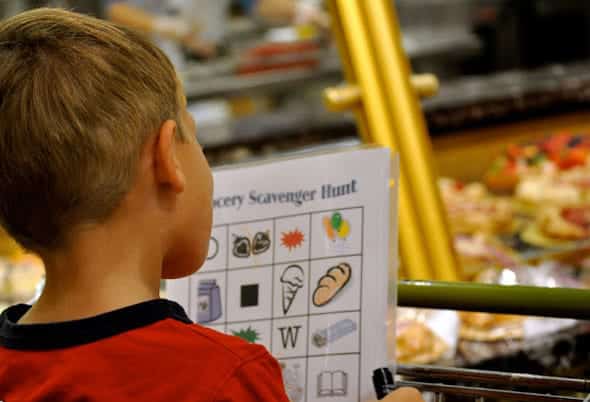 7. Nothing screams fun for kids like scavenger hunts! Have yourself a New Year's Eve Scavenger Hunt like the one found at No Time For Flashcards! It's a great activity for kids of all ages and you can make it into pretty much anything you want! Many New Years ones provide clues that refer to the past year and have kids go searching … but if you're having a neighborhood party and don't have memories for all the kids, just have a good old fashioned scavenger hunt around the house … with prizes for the winner, of course!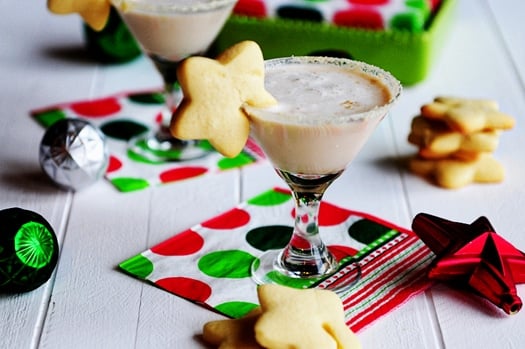 8. Remember that awesome piece we had on Pretty My Party recently about 10 Delicious "Mock"tails For Your Upcoming Party? Well this is the perfect event to put these recipes to good use! If you haven't looked at it yet, check it out!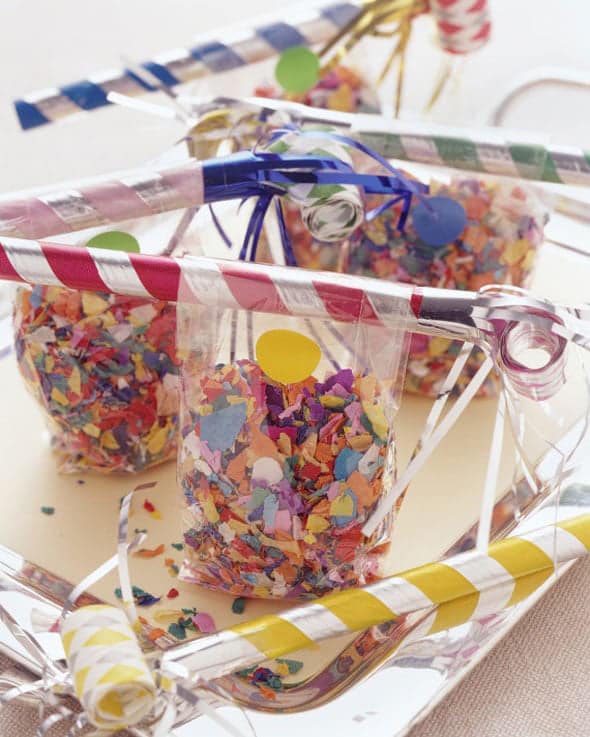 9. Wow! These New Year's Party Favors found over at Martha Stewart will definitely cause a big ruckus when midnight arrives by providing party guests with confetti and noisemakers. Fill a small glassine bag three-quarters of the way with confetti. Use double-sided tape to affix the bag to the stem of a noisemaker. Fold the top of the bag over, and seal with a bright sticker. Make a bag for each guest, and arrange the packages on a festive tray so everyone is ready when the countdown begins.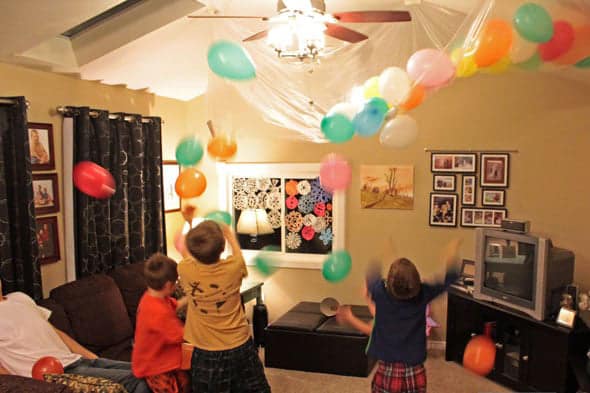 10. Do you think you have it in you to build a DIY Balloon Drop?!?! If you have some older kids who are going to be there and a house full at midnight, you really will want to look at this idea over at Pinned It! Can you even imagine all the kids screaming and laughing when the balloons all drop at midnight?! How COOL!
I love the fun that all of the kiddos have when they get together and are able to celebrate in their own special ways. With all the kids that our friends have, it's always a bit chaotic, but they definitely adore being included and participating in the fun, too. And for real … who didn't love spying on the adults at the many different gatherings when we were all kids? I know I sure did with my friends and it was always a hoot! Have a great New Year and enjoy celebrating in whichever way you decide!
Do you have some kid-friendly New Year's Eve party ideas to share? Let us know in the comments below!