April of A Kitchen Table For Two is sharing her Pinterest-inspired new baby subway art DIY project. This homemade gift is a wonderful after birth gift for any mother. It can also be customized for a bride-to-be for her wedding!
To begin, April used a 12 x 12 canvas and some printable transfer sheets. After being overwhelmed by a million different fonts, she picked one and started tweaking the size. After printing them out, she decided on a placement.
She then had to decide on a color scheme that would go with her friend's nursery.
Now that everything was sized, it was time for April to print! But wait … there was a slight problem … she realized after about 2 hours of work, that all of her text needed to be MIRRORED to print onto the iron-on transfer sheets. Luckily, her husband stepped in and worked a Photoshop miracle involving PDF's and a lot of googling.
Looking through the back side of the prints to make sure everything was just right, April doubled and tripled checked the stats and spellings and then heated up the iron! The 12 x 12 canvas, although fabric, was not the best material to use iron-on transfer sheets. She knew it probably wouldn't work perfectly, and it didn't …
After peeling up the non-permanent side of the transfer sheets, she still had a wrinkly mess! This is where April shares her "fix-it" idea …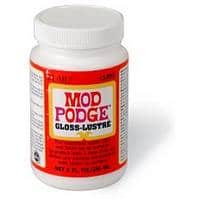 Yep, every crafters go-to, Mod Podge! After two thin and even coats, here's what she had.
Even though April hit a few speed bumps along the way trying to make her DIY subway art a reality, I think it came out great! I would love to make one for my son!
Thank you April for sharing your DIY project with Pretty My Party!
Sign up and get your FREE ebook with bonus party planner! Learn 12 secrets to plan your child's next birthday party for UNDER $100!