8 Fun Halloween Door Ideas
Make your home spooktacular this holiday with these Halloween door decorations!
It can get pretty competitive in the neighborhood when it comes to decorating for Halloween. But don't fear! We have some Halloween door decorations that will blow your neighbors away! If you're overwhelmed with the thought of decorating for Halloween, it's best to start small with these door decorating ideas. Once you've perfected your door, you can then move on to the porch decorations and then the rest of the house.
If Halloween is your favorite holiday and you love to decorate, these 8 Fun Halloween Door Ideas will inspired you to create something BOO-tiful this Halloween!
Halloween Door Decorations
How to decorate a door for Halloween
If you want to decorate your door for Halloween, first pick a theme. Choosing a theme will set the tone for the rest of your Halloween decor. Once you know your theme, you can start looking for ideas and inspiration and then start shopping for Halloween door decorations.
After you know the theme for your Halloween door, you can start checking stores and circulars for sales. It's also a good idea to sign up for the store emails so you can be alerted to upcoming sales and coupons.
If you want DIY Halloween decorations, it's best to start at the Dollar Tree and Dollar stores for decorations and supplies. If you can't find what you're looking for at those store, check your local craft stores like Michaels or look online at Amazon.
Whether you want spooky, kid-friendly or stylish Halloween door decorations, you will find the best door decorating ideas below. If you're planning a kids Halloween party or an adult Halloween party, your door decor will be on point. What better way to welcome your party guests to the best Halloween party ever than to really go all out on your outdoor decorations! Guests will be blown away by your creativity and it will really set the tone for your entire party inside.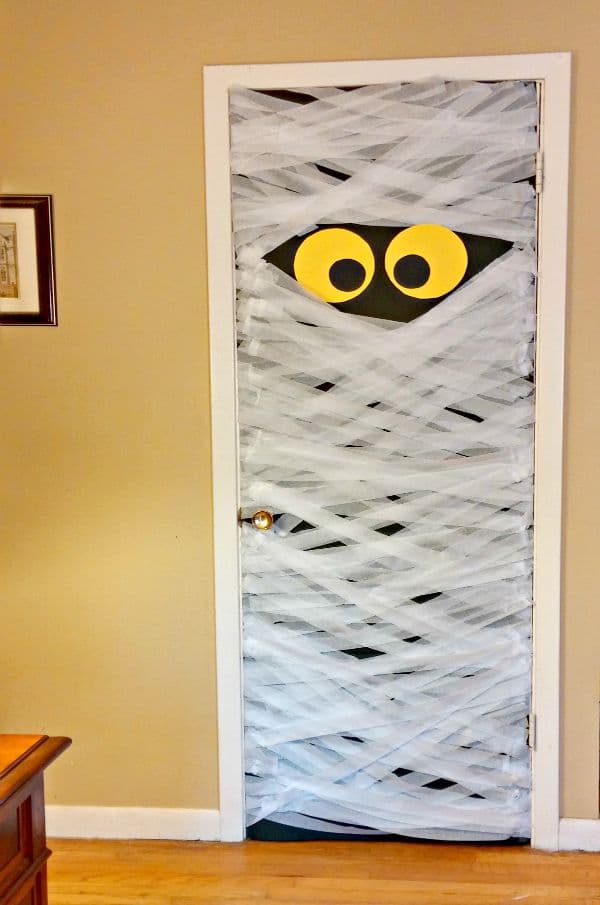 If you're a teacher looking for hall classroom door decorations, this Crepe Paper Mummy Halloween Door is an easy Halloween door decoration you can put together in no time. All you have to do is cover the door with black paper, make some large eyes with yellow and black construction paper, and get white crepe paper to make the mummy with a criss cross pattern. The kids will think your Halloween door is the spookiest!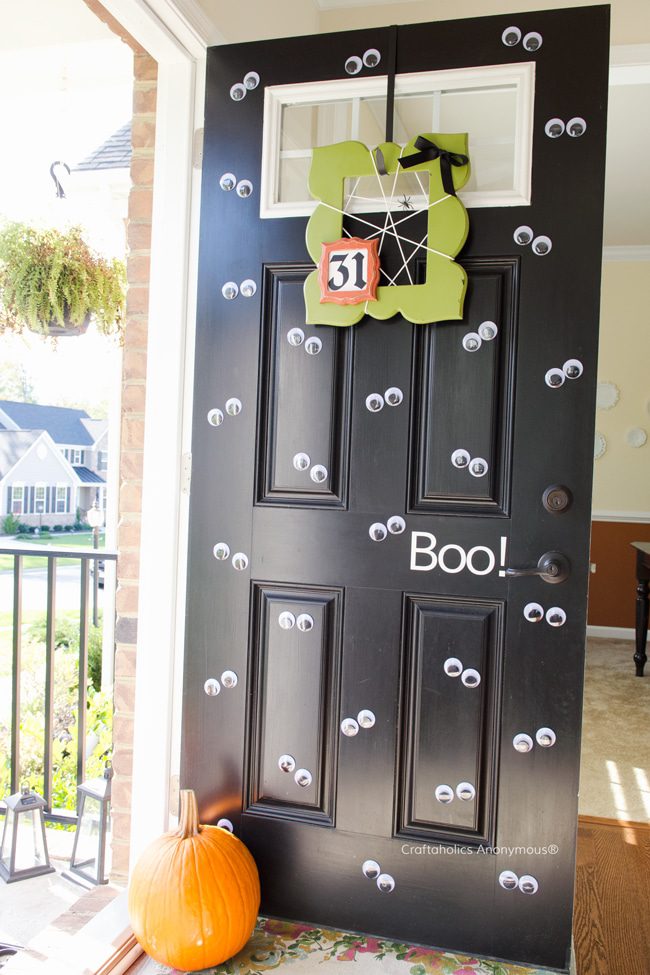 A trip to the craft store is all you need to achieve this Googly Eyes Halloween Door! Grab some large googly eyes and some letter stickers and go to town on your Halloween door decorations! The wreath is also super simple to make. All you need is a naked wooden frame, black bow, some paint and string, and a smaller frame to make this easy DIY Halloween decoration. This Halloween door is quick and easy to make for Halloween and the trick or treaters will love it!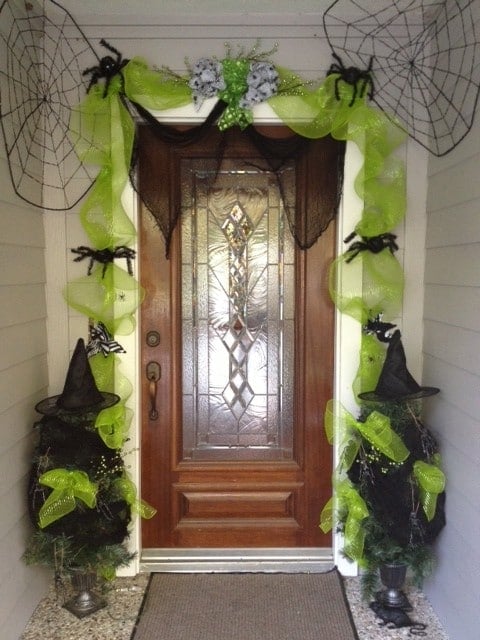 There's nothing better than Dollar Store Halloween Door Decorations! You don't have to go out and spend a ton of money to have the best Halloween decorations and this Halloween door prove that! Green mesh ribbon decorates the door frame which also features black spiders. Other Halloween decorations include two black spiders webs, a black creepy cloth and two witch inspired topiaries. Everyone will love these Halloween door decorations!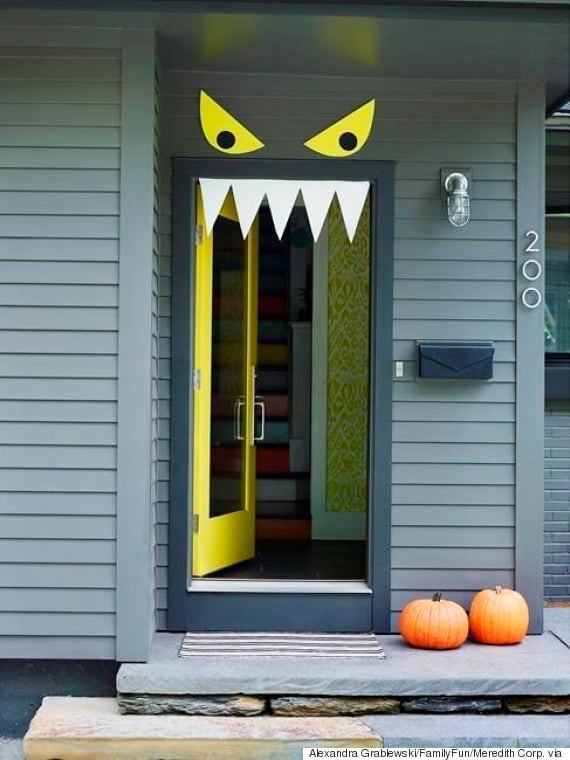 Are you looking for easy Halloween door decorations? If so, this Monster Door can be done is mere minutes! Construction paper and scissors are all you need to make a creepy Halloween monster door like this that will surely scare the neighborhood!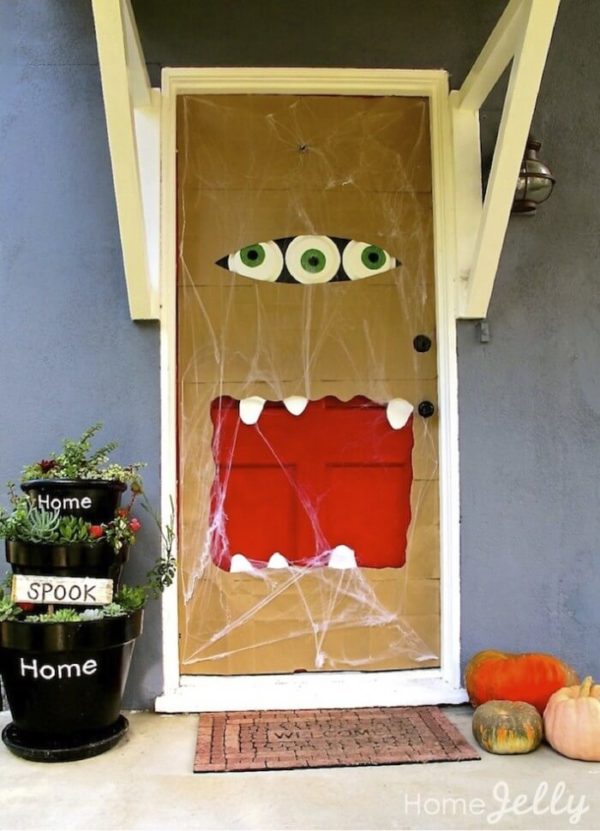 If you want to do a more kid-friendly Halloween door decoration, this Paper Bag Halloween Monster Door is for you. Made of paper bags, this Halloween door is quick and easy. You can even get the kids to help you make this fun Halloween monster door! We love how they added the spider webs for some extra spookiness! This Halloween door decoration is also a great idea for teachers if they need classroom door ideas for Halloween!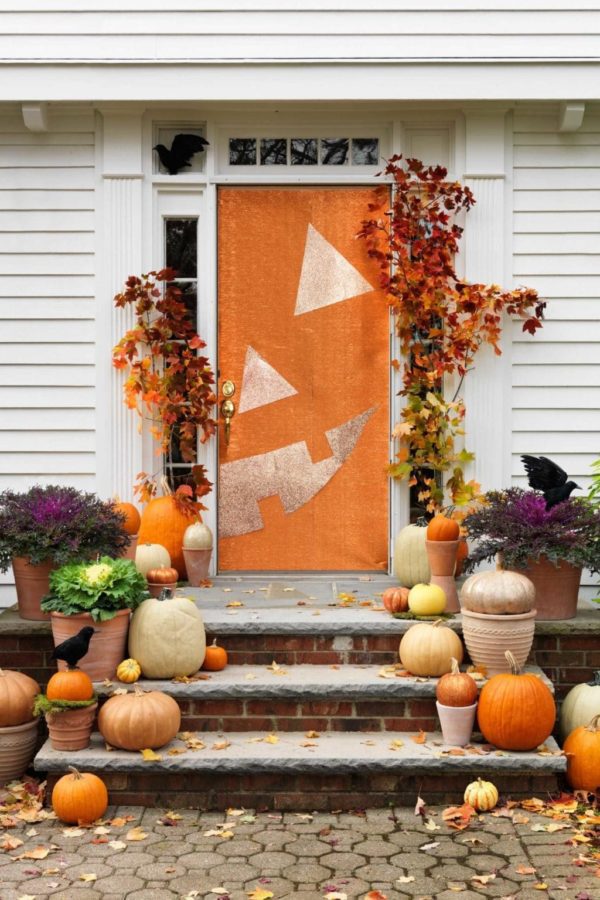 Maybe you love pumpkins and want to go for a more fall-inspired look with your Halloween door decorations. Well you're in luck. We have the perfect Pumpkin Halloween Door Decorations for you! We love this pumpkin door with a little glittery shine to it. Add various sized pumpkins and fall leaves like the door above to complete your Halloween door. You can even add black birds to your fall plants too like they did here.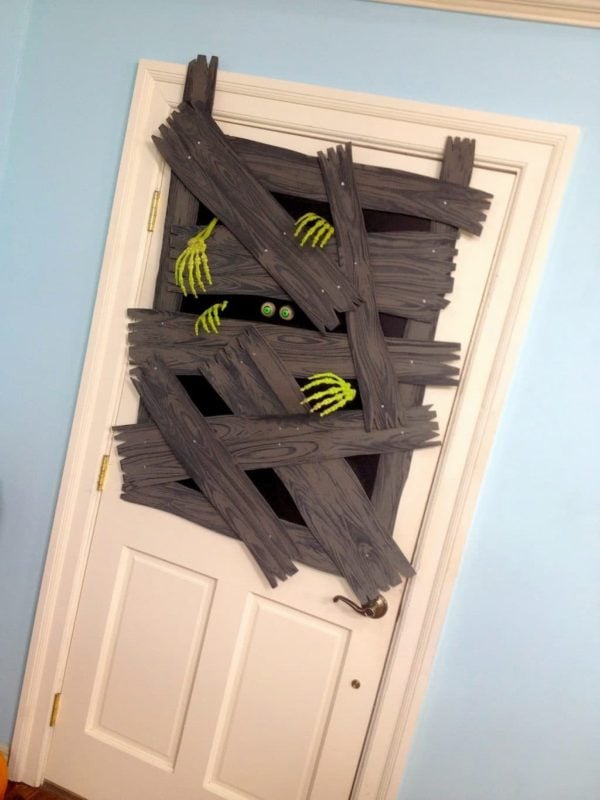 This cool Zombie Halloween Door is one of our favorite Halloween door decorations! This spooky design is perfect for an indoor or outdoor location. If you're hosting a Halloween party this year, add this Halloween door decoration to your other decor. Everyone will love it!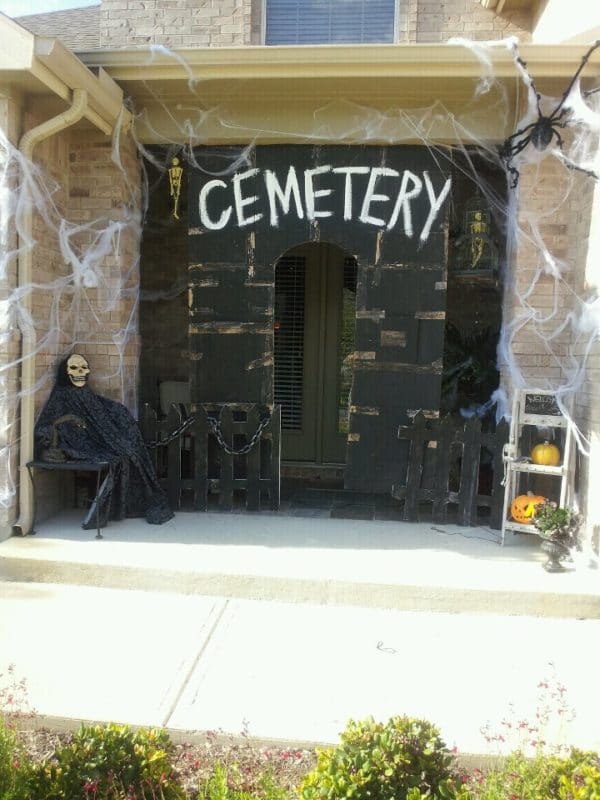 How awesome and creative is this Cemetery Door Entrance made of cardboard boxes?! The door and porch design is rounded out by a large, creepy black spider, spider webs, skeletons and black fence with chains. These Halloween door decorations are a great way to start if you want to do a haunted house for trick or treaters!
So will your Halloween door decorations be spooky, kid-friendly or stylish? Let us know in the comments below!
Which of these 8 Fun Halloween Door Ideas are your favorite?
For more holiday and Halloween ideas, follow us on Instagram @prettymyparty and Pinterest and join us in our private Facebook group.
SaveSave
SaveSave
SaveSave
SaveSave
SaveSave
SaveSave
SaveSave
SaveSave