Hello Beauties! Melissa here from MLM Worldwide Event Planning and it's that special time of year when Love is in the Air. Valentine's Day is quickly approaching and engagement season is in full swing, so I thought it was fitting to share some whimsical, red wedding inspiration to get you in the spirit.  
Greet your guests with a hand drawn chalkboard sign to let them know that fun and romance is in store.  You can hire a professional to write out your welcome or enlist a friend with impeccable penmanship. Be sure to add a few flourishes to add just the right amount of character. During the ceremony, don't be afraid to have your bridal party stand in a group on either side of you and your groom, especially if you have a large party (the average is 5 attendants each) and there isn't enough room for a giant, straight line. 
If you have a bold and daring personality than you may want to waltz down the aisle in a bright red gown. Vera Wang has put her spin on the traditionally Chinese custom of wearing red on your wedding day, which symbolizes prosperity and good fortune.
Bridal Party via Style Me Pretty | Groomsmen via Wedding Chicks | Shoes via Style Me Pretty | Bouquet via Wedding Chicks

Over the past year, bridesmaids have been wearing the same color in various styles, but the latest in wedding fashion trends is all about pattern. Choose a bridesmaid gown in a fun shape to flatter everyone's body type, but choose a patterned material of the traditional solid. It will create a huge visual impact for no additional cost. Don't forget about the men!  You can have them choose their own tie in one single color or even encourage them to incorporate a subtle pattern. Just be sure to keep the tie solid if the bridesmaids are wearing a pattern and vice versa. 
If you want to incorporate a pattern into your wedding day look but aren't able to find a bridesmaid dress you like, then wrap the stem of your bouquet in a striped (or polka dot) ribbon. This small update will be very easy for your florist to incorporate, especially if the ribbon has sentimental value as well. 
Wear Your Heart on Your Sleeve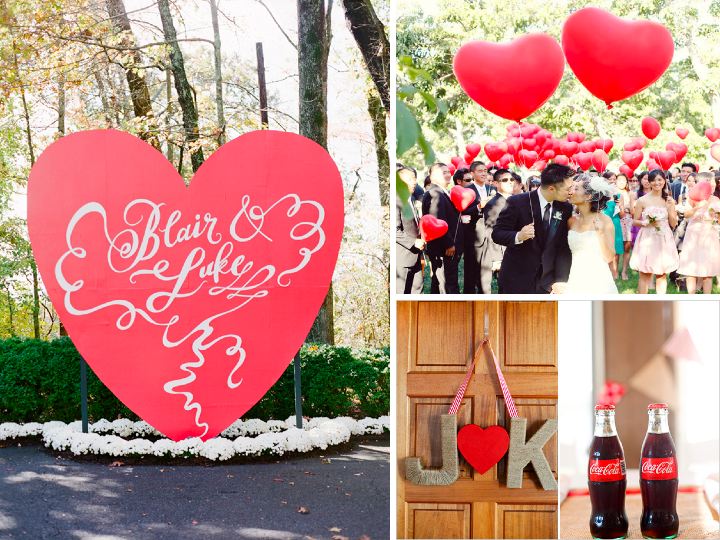 Celebrating your wedding around Valentine's Day can be especially fun if you incorporate hearts into your motif.  Create a giant wooden heart, painted with you and your sweetie's name to welcome guests as they first arrive. After the ceremony, hand out heart shaped balloons to all of your guests for an amazing photo opportunity. As the night goes on, they can wave them in the air to get the bride and groom to kiss.  
Making personalized initials is an easy DIY project that adds just the right amount of vintage charm to your wedding decor. First, visit your local hobby and craft store to find wooden or paper mache letters.  Then, find yarn or twine in colors coordinating with your design. Use a small dot of hot glue on the back of the letter to begin the process. Be sure to start close to the bottom or end of one of the arms of the letter. Just start wrapping the twine around the letter making sure there are no gaps. It's fine to over lap as you go along and then use another spot of glue to attach the end once you make your way around the letter. There are some letters that will have a tricky section and you can use a bit of glue on the back to hold your string in place if needed. Once you're finished you can set on a table or attach a piece of ribbon to hang from a door or back of your chair.  
Where Ever You Go, Go With All Your Heart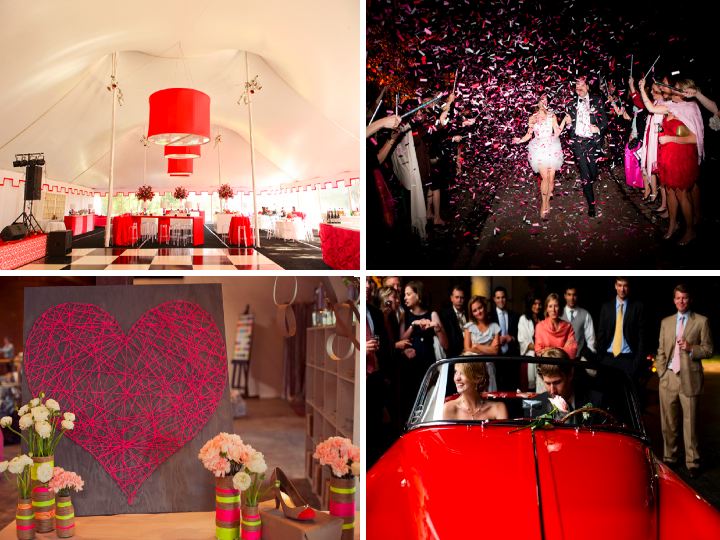 Red can be overwhelming in a reception space so decide on a few key elements, such as the tablecloths and drum lighting fixtures, to use the bold color. Then be sure to keep everything else muted in black and white. If you would like to incorporate more of the whimsical yarn into your design, then consider creating an original piece of art. You would need a piece of wood, paint, nails and yarn to create this amazing display. Use it to hold your seating cards or invite guests to tuck well wishes in between the strings. Visit Green Wedding Shoes for the easy DIY details. 
After changing into a mini-reception dress and dancing the night away, it's time to say goodbye. Give each guest a tube of confetti made of tissue paper and have them lightly flick the tube to release the colorful paper as you run by. Then hop into a bright red convertible and speed off to your honeymoon suite as everyone is cheering for one last kiss.  
Are you having a Valentine's Day wedding or incorporating red into your decor?  We would love to hear from you, Leave us a comment!
Have a Modern, Luxurious and Magical Day!
MLM
Melissa Lauren Marghella is the owner of MLM Worldwide, an event planning and floral design company in Southern California, that specializes in creating hand-crafted details that showcase the personality of the bride and groom. When she isn't planning weddings, she enjoys floral design, paper crafting and blogging about wedding trends.
Connect with Melissa: