Hello Beauties, Melissa here from MLM Worldwide Event Planning, and I am so excited to share my wedding inspiration for the color of the moment, Mint! The pastel green color was originally quite popular in the 1950s and 60s but has made a fierce comeback in the past year. Mint can be paired with a variety of colors, such as coral for a girly vibe, yellow for a retro feeling, and grey to bring out the modern, masculine side of the color. 
Pairing mint green with a vibrant pink like coral will make a fun statement at your wedding. I would recommend choosing a more subtle third color, such as cream or even burlap accents to balance the other bold color choices.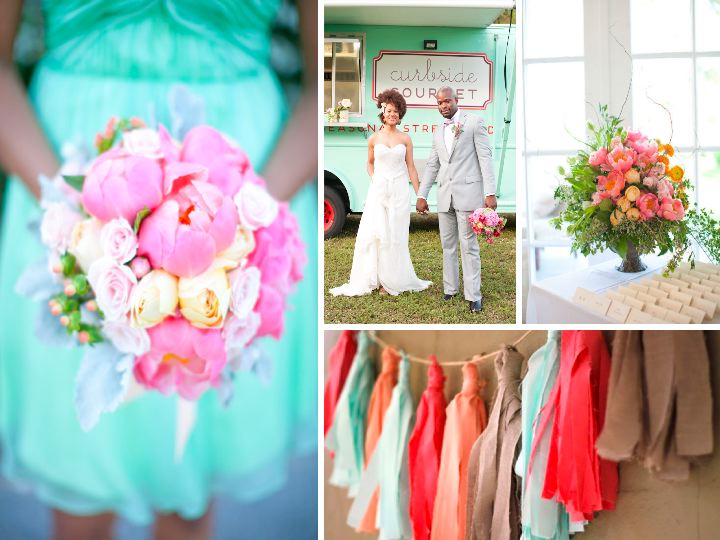 Bright, lush peonies will make any bouquet look amazing, but remember that you should choose flowers in season to get the most out of your floral budget and peonies are only in season mid-late Spring.  Another great way to stretch your floral budget is to have a few large arrangements in the spots that guests will see first and most often. Then have smaller arrangements on each table since guests will most likely be up and mingling or on the dance floor for most of the night. Hiring a local food truck to hand out a sweet treat or midnight snack is a fun way to keep your guests on their toes.  
Creating a handmade tassel garland is an adorable way to add some whimsy to your decor. Prudent Baby has the most simple and genius tutorial ever. You can create any size you want so that you have a smaller set for the back of your chairs. Also, be sure to choose fabric that is the same on both sides since it will show once completed.
Mint and Yellow
Combining graphic patterns in bright yellow and vintage milk glass in mint green helps bring the vintage vibe into a modern couples' wedding day.  Searching thrift stores and flea markets for the centerpieces and dining sets can be a fun way to get your groom involved.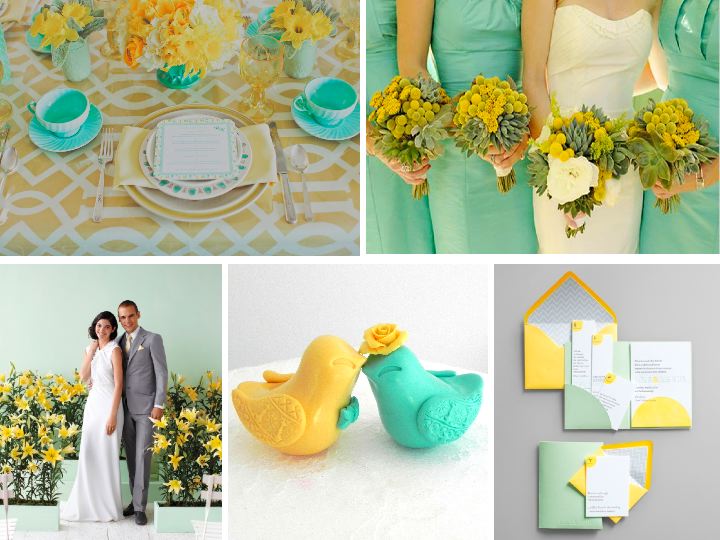 Incorporating succulents and Craspedia (the yellow ball flowers) create a unique bouquet for your bridesmaids. Be sure to incorporate some lush white flowers into your bouquet to make it stand out. If you are color shy, try incorporating a bold cake topper onto a classic white cake. If you wanted to have an outdoor wedding but couldn't find the perfect venue and opted for a ballroom, consider bringing the garden to you. Secure faux Lillies into long, wooden boxes painted to match your decor and then fill the box with moss to hide the stems. It's a super easy, inexpensive way to create a beautiful backdrop for your ceremony. 
Incorporating grey into your mint color scheme is a way to give your wedding a masculine, modern feeling. I also love to incorporate pewter and chrome metallics into this color palette to give it a little more sparkle.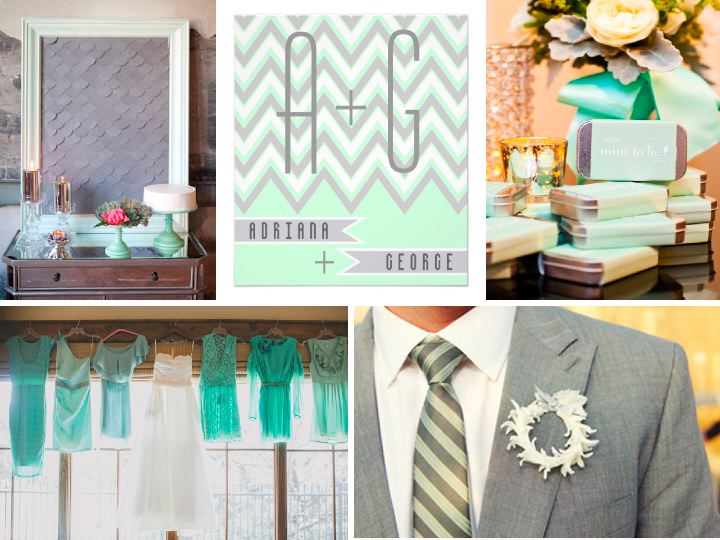 Creating a backdrop for your cake table (or favors, escort cards, or even photo booth) is an easy DIY project. You will need to head over to your local hardware store and gather as many grey color swatches in the paint section as possible (shhh, don't tell them I sent you). Use a large circle punch to create uniform circles that don't include any type and affix them to a lightweight foam-core board starting at the bottom using a small line of hot glue. Alternate the circles to create a scallop pattern that mimics fish scales. Finish the board with wood trim painted in coordinating colors. You can then use this custom art work in your newlywed home.
Offering silver tins of mints with the adorable "Mint to Be" printed on labels is a memorable treat for your guests. A great way to add texture and variety to your bridesmaid gowns is to allow each girl to choose her own style in similar colors. This allows everyone to feel comfortable and confidant making for the best photos and memories possible. The goal is to look coordinated, not matching.
Do you love the Mint trend as much as we do? Are you planning to incorporate Mint into your upcoming wedding? Tell us all about your plans in the comments below! 
Have a Modern, Luxurious and Magical Day!
xo,
MLM
Melissa Lauren Marghella is the owner of MLM Worldwide, an event planning and floral design company in Southern California, that specializes in creating hand-crafted details that showcase the personality of the bride and groom. When she isn't planning weddings, she enjoys floral design, paper crafting and blogging about wedding trends.
Connect with Melissa: