Kendle Arribas sent in this super "cool" Ice Cream Party With A Twist for her daughter's third birthday! The party features a vintage-looking handmade ice cream cart, a real ice cream truck that made Liquid Nitrogen ice cream, a 10-foot-tall ice cream cone balloon sculpture, a toppings bar and chocolate fountain, an appearance by Hello Kitty, and ice-cream-themed decorations, food and games. The invitations were mailed in a hot pink boxes filled with sprinkles along with a pink spoon tied around the invitation. The favor boxes included Astronaut Ice Cream, Ice Cream bubbles, an Ice Cream candy and stamp set, and instructions on how to make your own ice cream in a bag. Drawing oodles of inspiration from Pinterest, there were many DIY projects sprinkled throughout the party. Hurricane Isaac posed a threat, but they lucked out and had a gorgeous, sunny Florida day!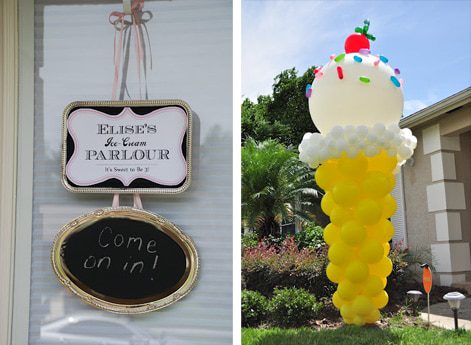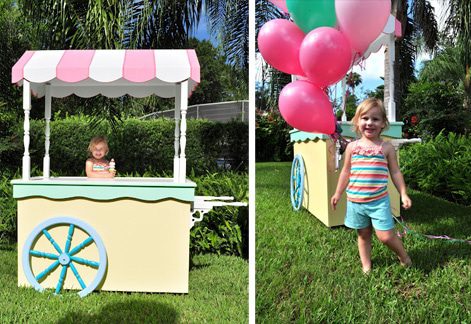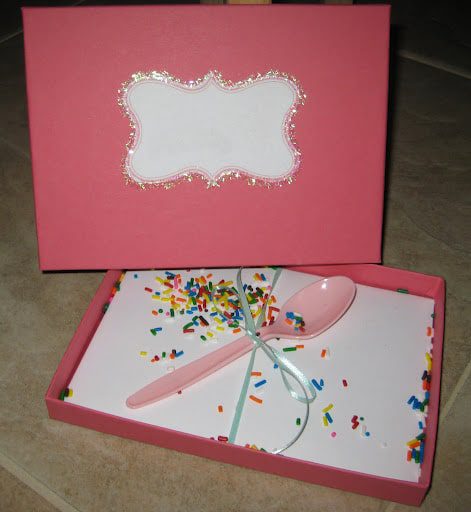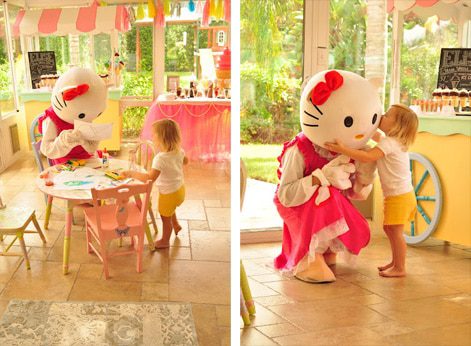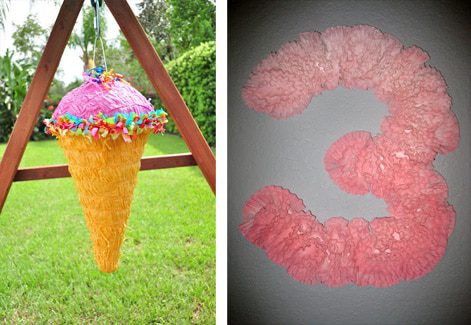 Credits & Resources
Photography: Treasured Memories Photography | Invitations: Pink Invitation Boxes from Paper Source, Vintage Parlour Shoppe Party Invitation (not shown), Mailing label altered from design from Eat Drink Chic downloads | Vintage Handcrafted Ice Cream Cart Prop: John Larner, Orlando, FL | Toppings Bar: Libbey Tulip Sundae glasses from Amazon, Strawberry ice cream cone lamp centerpiece from Perpetual Kid, DIY candy necklace garland inspired by Passion For Parties, Pink Tulle Tableskirt from Bailey Had A Party on Etsy, DIY Paddle Stick Toppings Labels thanks to free download from Eat, Drink Chic, Pink Chevron Table Runner from Four Bugs in a Rug on Etsy, Apothecary Jars from Michaels Crafts | Ice Cream Cart Display: Custom Handmade Chalkboard Sign from Etsy | Pastel Pedestal Candy Jars / Cake Stands: Amazon.com | Ice Cream Cone Cupcakes: Recipe from Betty Crocker | Acryclic Holders: Amazon | Rice Krispie Treat Ice Cream Cones: Mini Cones from Layer Cake Shop, Inspired by Cute As A Fox | Cone Holders: DIY with Styrofoam and paper from Michaels | Chocolate Popsicle Lollipops: Inspired by The Party Wagon, Molds from Layer Cake Shop | DIY Ice Cream Cone Wands: Inspired by Blowout Party, Felt Ice Cream Cones (no wand or ribbon) purchased from Etsy | Other Ice Cream Themed Desserts: Liquid Nitrogen Ice Cream from Ice Cream Social Club, Ice Cream Cones made with bugles, mini marshmallows, melted chocolate, and sprinkles inspired by Munchkin Munchies, Ice Cream Cone sugar cookies, Jelly Belly Ice Cream Parlour Mix jelly beans from Jelly Belly, Marshmallow Ice Cream cones from CVS | Other Desserts/Candy: Candy buttons/paper dots from Party City, Strawberry-covered yogurt pretzels from The Fresh Market, Assorted mint nonpareils in yellow, pink and green from Party City, Meringue cookies from Publix, Confetti cupcakes with Hello Kitty toppers; toppers from Sanrio, Old-fashioned candy sticks in pink and green from Party City, Rock candy in pink, green and yellow from Party City, Berry Burst Ice Cream Oreos and Birthday Cake Oreos from Publix, Macarons from Le Macaron, Winter Park, FL, Saltwater Taffy from The Fresh Market | Decorations: Ice Cream Cone Balloon Sculpture by Orlando Party Store, DIY Ruffled Ice Cream Cones inspired by Icing Designs, Ombre No. 3 wall decoration made with coffee filters inspired by Lowes Creative Ideas, DIY photo bunting made with photos of my daughter from the past year, Pennant Garland from Martha Stewart, DIY Tassel Bunting inspired by Confetti System, Carnation Ice Cream cones inspired by Martha Stewart, Chevron Table Runners from: Pink, Four Bugs in a Rug on Etsy; Yellow, Longrunners, Signage from Eat Drink Chic, DIY Door welcome signage made with dollar story silver trays, chalkboard paint, ribbon and signage from Eat Drink Chic, Melted Ice Cream Cone door stopper from Perpetual Kid| Favors: Favor boxes from Martha Stewart, Ice cream cone stamps and candy from Party City, Ice cream cone bubbles from In And Out Gifts (also used as weights for balloons) Astronaut Ice Cream from Amazon, Instructions for making your own ice cream in a bag from Two Little Hooligans| Partyware: Ice Cream Truck Cups from Pizzazzerie, Ice Cream Cups from Sur La Table, Wooden Striped Ice Cream Spoons from Sucre Shop, Plates and napkins from Shop Sweet Lulu, Drinks, French Pink Lemonade served in milk bottles rimmed with chocolate and sprinkles, Milk bottles from Shop Sweet Lulu | Striped straws from Shop Sweet Lulu, DIY Hello Kitty Ribbon Water Bottles – ribbon from Michaels, Rose Champagne | Games: Pin the Cherry on the Ice Cream Cone: Ice Cream Cone Wall Decal from Etsy, Red, round, jeweled stickers from Michaels to use as cherries, Ice Cream Cone Pinata from Party City, Ice Cream Cone Bean Bag Toss from Oriental Trading Co.
Sign up and get your FREE ebook with bonus party planner! Learn 12 secrets to plan your child's next birthday party for UNDER $100!